This is #8 in the Dark Ones series, and an all grown up continuation of the Goth Faire series under the pen name Katie Maxwell. This book takes place approximately 6 years after the events in Circus of the Darned. Fran has now finished college and is making plans to join her Dad's internet company. She hasn't seen Ben in several years, and in fact, had told him about a year prior that they were done and over.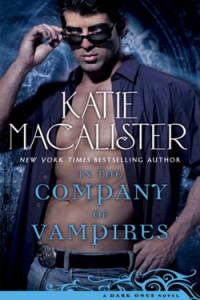 What I really liked about this book was the return of the all the great secondary characters from the first 2 books. They really provided quite a bit of extra comic relief. Additionally, there were tie in characters from other books in the Dark Ones universe. I like following characters as they move from book to book in the series, even if they are the main characters.
As far as Fran and Ben's relationship goes, it starts out rather rocky. I will try not to give any big spoilers, but there was a moment when I really wondered if Fran and Ben were actually going to get together. Thankfully Fran's character has truly grown and matured in the years since the YA books and she actually listened to the explanation and trusted in her Dark One. Though I will say, that Ben should have spent a bit more time with the groveling.
Overall this was a good book and a great wrap up to the the YA books. Katie MacAlister left us with enough loose ends to spin a couple more Dark One books, but enough resolution to see that Fran and Ben were headed firmly into their HEA.