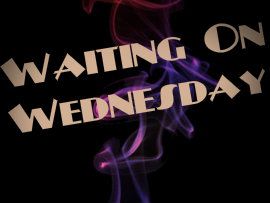 Waiting on Wednesday is a weekly meme hosted by Breaking the Spine showcasing upcoming books that we are waiting, often impatiently, to be released.
Dead Ever After by Charlaine Harris

Sookie Stackhouse has one last adventure in store.

Life has taken her from a waitress in Merlotte's Bar, Bon Temps, to part owner; from social outcast to the heart of her community; from a vampire's girlfriend to the wife of one of the most powerful vampires in the state. She has survived earthquakes, revolutions and attempts on her life. Sookie has endured betrayal, heartbreak and grief . . . and she has emerged a little stronger, and little wiser, every time.

But with life comes new trials . . .

The question is, in the end: who will love, who will live, and who will be dead ever after?

Sookie finds it easy to turn down the request of former barmaid Arlene when she wants her job back at Merlotte's. After all, Arlene tried to have Sookie killed. But her relationship with Eric Northman is not so clearcut. He and his vampires are keeping their distance…and a cold silence. And when Sookie learns the reason why, she is devastated. Then a shocking murder rocks Bon Temps, and Sookie is arrested for the crime.

But the evidence against Sookie is weak, and she makes bail. Investigating the killing, she'll learn that what passes for truth in Bon Temps is only a convenient lie. What passes for justice is more spilled blood. And what passes for love is never enough...

Release Date: May 7, 2013
Why This book?
I am waiting on this book because this is the final book in the series. This is a series that started out strong, but is ending with a whimper for me. As far as I can tell, the series went to hell about the time that HBO got involved. All of the "tv" fans started reading the books and became shocked that it didn't match the books. All I can say is "Duh!" Like any tv series is going to get all the nuances and particulars of a book right. Unfortunately, the next couple of books that were released felt like the author was pandering to those "tv" fans instead of the ones who had been faithfully following her written word.
Why if I am so upset am I still reading? Because it is almost over, and I just really want to be able to close the final chapter and know the story is done. Come on Ms. Harris. Give us an ending to be proud of. I think those of us who have been with you from the very beginning deserve it.