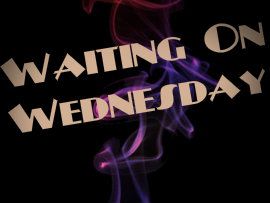 Waiting on Wednesday is a weekly meme hosted by Breaking the Spine showcasing upcoming books that we are waiting, often impatiently, to be released.
Time Thief by Katie MacAlister

FIRST IN A NEW SERIES FROM THE BESTSELLING AUTHOR OF THE DARK ONES NOVELS!

Outcast due to their ability to manipulate time, shunned by the mortal and immortal worlds alike, a Traveller's life is anything but easy.

Peter Faa is a member of the Watch tracking down a murderer, and unfortunately, all clues seem to point toward his own estranged family of Travellers. Any of his cousins could be guilty, but which one? They're all experts in the art of stealing time...

After surviving a lightning strike, Kiya Mortenson is determined to get just one thing in her life right. And if that means taking a job as nanny to five pugs on a campsite in the Oregon wilderness, then so be it. It doesn't hurt that the job comes with some spectacular male eye candy, including her new boss's gorgeous grandson. If only she didn't keep having this strange sense of deja vu...

When Peter discovers his own family is stealing time from Kiya, all bets are off. While she may drive him crazy at times, it's clear that it's not just lightning that's creating some serious sparks between them. And he's not going to let secrets, lies, or a devious murderer keep Kiya from where she belongs: at his side.

Release Date: May 7, 2013
Why This book?
I am waiting on this book because I have been a Katie MacAlister fan ever since I read a Girl's Guide to Vampires, way back in 2003. That's 10 years of fantastic books and incredible stories. Ms. MacAlister's Dark Ones series has 14 books in it. 14! And guess what? Not a single, solitary one of them sparkle. *grin* Not only has Ms. MacAlister conquered the Vamp world, but she took on Shifters as well. Dragons to be exact with her Aisling Grey, Silver Dragons and Light Dragons series. All 3 series interconnect giving us 10 books of dragon yumminess to read. Once you add in her various stand alone novels, you can appreciate how Ms. MacAlister has remained at the top of my Auto Read list for years. I am positive that this book will also contain her trademark snark and humor.