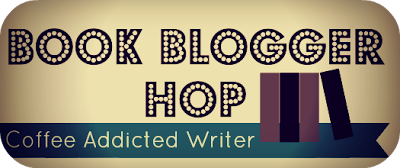 Book Blogger Hop is hosted by Ramblings of a Coffee Addicted Writer. Each week a question is asked and we bloggers answer.
This week's question is asked by Tanya from GirlXOXO blog.
Question:
What is your favorite genre? (genre that you read the most) - Recommend a book!
Answer:
Another hard question!

As a book lover, there is very little that I don't read in one form or another. I will say that I tend to stay away from Stephen King/Dean Koontz style Horror and the Teen Drama Trauma of YA. Otherwise, I just have the hard and fast rule of not wanting to cry during the book. Sad books or movies that I know will make me cry are auto-banned. I know I am female, but there you have it. I don't like to cry. *shrugs*

For me, the best books are the ones that cross genres. You know the Romantic Thrillers with Urban Fantasy elements, the Cozy Mystery with Paranormal Romance elements, the Science Fiction Adventure with Western elements... Oh wait, that's a tv show/movie, lol, my bad. Personally, the harder it is to pigeon hole the book, the more I want to read it and will probably enjoy it.

As far as a recommendation: The Katherine "Kitty" Katt series by Gini Koch is one of my new favorites. Seriously if you haven't read any of them, go find Touched by an Alien and give it a try. It was like a cross between Stephanie Plum and The Hitchhiker's Guide to the Galaxy. There is craziness all over the place with good aliens and bad aliens thrown in. The best part? The soundtrack that the Kitty has every time she is fighting the bad guys. If you love good dialogue and non stop action you will enjoy this book.

Do you have one genre you prefer over another? Tell me about and give me a recommendation.