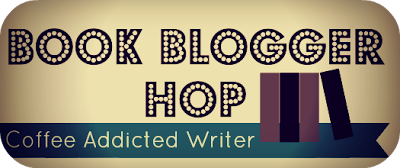 Book Blogger Hop is hosted by Ramblings of a Coffee Addicted Writer. Each week a question is asked and we bloggers answer.
This week's question is asked by Tanya from GirlXOXO blog.
Question:
What is your favorite series that you've finished all the books (more than 3 books) to?
Answer:
Oh boy.

I love series and I have read so many that are really good. From the Myth, Inc series by Robert Lynn Asprin back when I was in high school through Jennifer Estep's Elemental Assassin series today, there is just something about them that pulls me in. There are so many that I could name as favorites during different times in my life. Jennifer Roberson's Tiger and Del series or Piers Anthony's Incarnations of Immortality or Laurell K. Hamilton's Anita Blake Series or even Lora Leigh's Breeds. My abso-go-to-for-a-laugh books, the Pride series by Shelly Laurenston is always a favorite. And of course, there is no leaving out J.D. Robb's In Death series... all 45 books of it.

But my current favorite would have to Ilona Andrew's Kate Daniels' series. I have read all the books, the novellas and all the Curran POV shorts. There has been re-reading involved.... 5 or 6 times, but who's counting? Not me, that's for sure.



What is one of your favorite series?