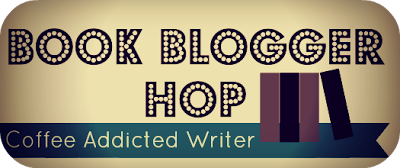 Book Blogger Hop is hosted by Ramblings of a Coffee Addicted Writer. Each week a question is asked and we bloggers answer.
This week's question is asked by Elizabeth from Silver's Review blog.
Question:
When you are writing your reviews, do you write them as you are reading or wait until you are completely done with the book?
Answer:
I wait until I have finished the book to do a review. I don't take notes either. While reading, the book has my full and undivided attention. Once I am done, I really like to wait a minimum of 24 hours to start putting my thoughts down. Why the wait? Because I like to get a little perspective and give myself time to really think about the book and what I liked or didn't like.

I once read an article that discussed the different styles of book reviewers. There are the people who have a score card and tally all the different parts to get an overall score for the book. Then there are those who just have an instinctive number for the book. They go with what their gut tells them. I am the second kind. Sometimes I haven't figured out the number until the review is written and proofread and edited.




Do you prefer reviews that break each part of the story down and then average a score? Or do like the reviews that just give you an overall general feel for the book?



Linky List: