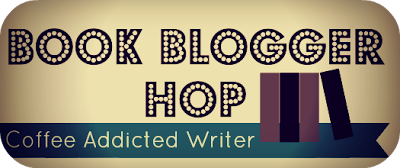 Book Blogger Hop is hosted by Ramblings of a Coffee Addicted Writer. Each week a question is asked and we bloggers answer.
This week's question is asked by Elizabeth from Silver's Review blog.
Question:
Book blogging is more than just reading. Who helped you set up or run your blog? Or did you do it all yourself?
Answer:
I have been book blogging for about 8 months now. When I first started out, my site was more basic. But as I have become more experienced as a blogger and grown, I have added and changed things. I am sure that I will make more changes as I continue to learn.

As I have become more familiar with other's blogs I see things that I like about them and then try to do similar things to my own. Most of the time I end up spending a lot of time researching How To sites and blogs to create the effects I want. But in the long run, it makes me much prouder of my blog because it is my hard work and effort that has made it what it is so far.
Now sounds like a great time to get some feedback on what you like or dislike about my blog. Any suggestions? Things you wish I did or had to make your experience on my blog better?