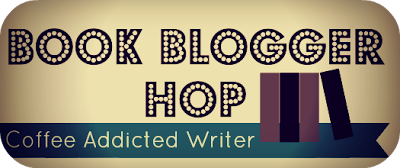 Book Blogger Hop is hosted by Ramblings of a Coffee Addicted Writer. Each week a question is asked and we bloggers answer.
This week's question is asked by Judy from Musings and Ramblings blog. (Hey, that's ME!!!)
Question:
What got you started as a blogger? Everyone has a story/reason, what's yours?
Answer:
I originally got started blogging several years ago. I started a diary blog of my adventures while playing an online multiplayer game. While blogging, I found several other bloggers who also played the game. When I took a break from the game, I also took a break from blogging.

One of the players that I met online kept telling me that I needed to get back into blogging. And I did miss it, just not enough to go back to chronicling my adventures in the game. So I tried chronicling my life and using a program that gave you blogging ideas each day. It was during this time that I became unemployed and my life really wasn't worth blogging about.

Then last fall, I discovered book blogs and followed several hops and had a blast doing so. While following these blogs, I decided to give blogging another try, this time focusing on my first passion - reading. Since I still had my old blog just sitting there, I re-purposed it and started doing book reviews. The first couple of months was spotty and haphazard, but then one day I got my first follower. I was walking on air!!

Then I found a book tour and realized that I could get books to review for Free. Soon I was reworking my blog, trying new things and blogging most everyday. I can't believe how far I have come in just 8 months and I can't imagine where I will be in another 8.

I have to say that I have found the book blogging community to be one of the nicest around. They have been incredibly helpful and supportive. You couldn't find a nicer group of people and believe me I have looked!
Thanks for stopping by! Feel free to ask me a question. I might even answer. ;)